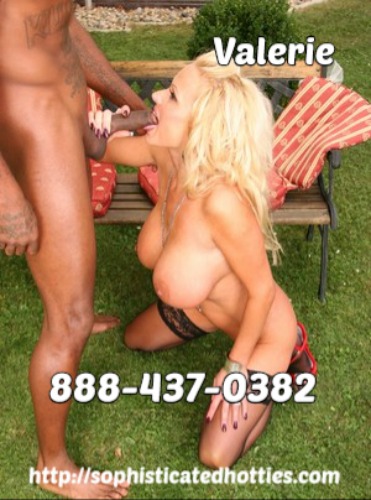 In my racist neighborhood, Ebony phone sex is completely taboo. These perfect white housewives would never dream of sharing their precious, coddled little pussies with a chocolate stud like you. So when you stopped by to see the house for sale next door and the realtor was running late, I did what any good neighbor would do. I invited you into my yard for a glass of iced tea. I think you could tell that I was checking your body out. Your lean cocoa frame, muscular legs. and a large package in your jeans. My pussy twitched a bit just thinking about what was underneath.
You stood up from the wicker chair you were sitting in and walked over to me. "The realtor isn't coming, is she?" I laughed. "No sir. You wouldn't want to live in this racist neighborhood anyway. I say we give them a show. You know they're watching. " I giggled as I unfastened my blouse. I stood up and kissed you full on the lips, reaching for your zipper. "Fuck my tits." "NO. Let me fuck that pretty white pussy." you growled in your sexy low voice. I spun around, bending over the chair as you pulled my panties down. I screamed out loud as you shoved 10 inches into my pink slit.
Knowing every person on the block was watching made me so hot. I yelled. "Fuck me, you big sexy stud." as I creamed on that big black cock. Mmmmm, my pussy is still sore. My husband is getting a real treat tonight. A very special chocolate mousse. Shall I save some for you, too?