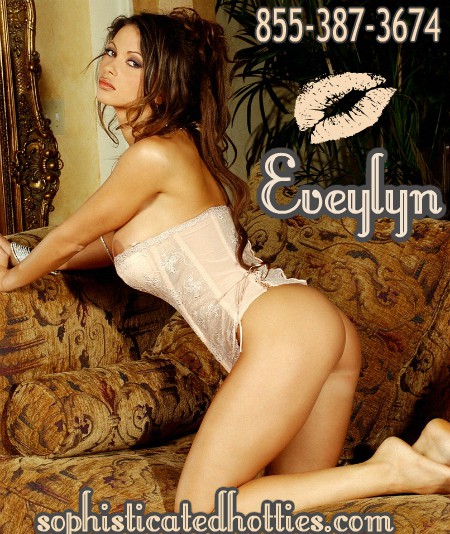 Phone sex therapist Eveylyn wants to help you find your greatest sexual pleasure. So when you come into my office after a long stressful day, I want you to trust the process. I am not like other therapist. I find that you are able to relax and confide in me when you are totally naked. So I always have you take off all of your clothes before you relax on my chaise longue. I blind fold you and turn on some soft classical music.
Then I tell you to picture your most desirable fantasy no matter how taboo it might be. I can tell that your mind must be picturing all of your dirty little desires because your cock is getting extremely hard. I walk over and sit on the chaise longue next to you. I reach over and start stroking your hard throbbing cock. I tell you to keep playing out your sexual fantasy in your head while my soft lips start sucking on the head of your cock. I want your mind to make you think your are really there engaging in whatever sex act gives you the greatest pleasure as I slowly deepthroat your hard throbbing cock into my mouth.
You tell me that you cannot only envision your fantasy but that you feel it happening too. You are so sexually excited that you blew your load all over my warm wet mouth. You thank me and tell me that you came harder than you have in ages. I am just so thrilled that I was able to help you experience your sexual fantasy and hope to be able to guide you to some of the greatest sexual pleasures of your life. I truly believe that sometimes some of the greatest sex is purely wild crazy fantasies.