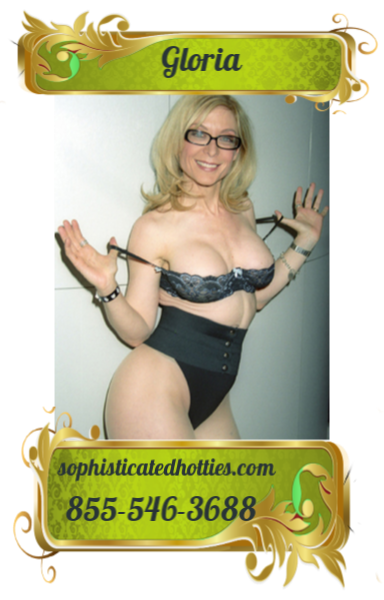 I might be older but I am still sexy as fuck!  I take great pride in my body.  I work out to keep my body in shape.  I get a lot of attention from men my age, as well as a lot of younger men.  I love it!  However, sometimes that attention is not wanted so I just tell them to piss off.  That shocks some men, and some even become angry, but I'm not one of those women who keep quiet.  I am pretty blunt and in your face if I need to be.
One time I was at a bar in a hotel because I was away for a conference for a charity that I am on a board for.  I was sitting there at a table, looking at some things on my tablet when a man came and sat down at my table.  He didn't ask if he could sit, he just sat down.  I looked at him without moving.  I asked him if I could help him, he said that no pretty ladies should be left alone.  I smiled curtly at him and told him that I was perfectly fine and would be.  He stood up, called me a bitch loud enough for those around me to hear, then walked up to the bar and sat down.
I wasn't embarrassed at all, I went back to going over my work.  I could still hear him at the bar.  It was making others uncomfortable.  One young man went over to him and told him that he needed to stop because he was drunk.  The man just got louder.  Finally Hotel security had to come and remove him from the bar.  He kept yelling that it was all "that bitch's fault", I was assuming that I was the bitch he was yelling about.
I wasn't at all bothered. I did however go over and thank the younger man who had tried to calm him down.  He introduced himself, I introduced myself and it went from there.  We ended up in my room.  I was on all fours, he was behind me slipping his cock in and out of my pussy.  He laid on his back and it was then my turn to be in control.  I sat on his dick without moving.  He kept trying to lift his hips up, but I wouldn't let him.  I teased him for the rest of the night.  When it came to the point that he couldn't take it anymore, he quickly flipped me onto my back and fucked the hell out of me.  I couldn't help but think had the first man been cordial, polite, and spoke like a gentleman, he could of been the one fucking me instead.