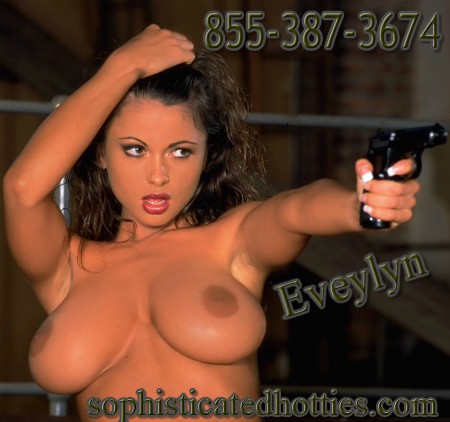 This sexy babe had just gotten out of the shower when I heard my front door open. Since you were out of town on a business trip and not expected back for two days, I grabbed your handgun from the dresser drawer. I walked into the living room wearing only a pair of thong panties with gun in hand. You were sitting something down on the entrance way floor, I knew immediately that it was you, but I was feeling frisky and couldn't pass up this chance for some roleplay . So I pointed the gun in your direction and told you to strip. You said excuse me. I told you that's right mister take your clothes off or you get a bullet.
You gave me a smirk and started removing all of your clothes. Once you were naked I motioned towards the bedroom and told you to move it. I made you lay down on your back on the bed. I pulled out the handcuffs from the dresser drawer and made you hand cuff yourself to the headboard. I told you that I knew you had intended to have your way with me but now the roles were going to be reversed. I put down the gun and walked over to you. I tightened the handcuffs and you protested. I put my hand over your mouth while sitting on your chest with my hot wet pussy and told you to hush, I inched my luscious ass down closer to your big hard cock and rubbed against it.
I leaned over and sucked on your nipple while I continued to tease your cock with my ass. You told me to put your cock into my juicy pussy. I told you to hush again. I reached down and grabbed your cock. I licked all over the head of your cock and then I side my baby soft lips all the way down your shaft feeling every throbbing inch of your cock inside my warm wet mouth. I sucked on your cock just a little longer before I sat down on your face. I told you to tongue fuck my pussy. That you had to make me cum first. You stuck your tongue deep inside my pussy and flicked it around. You sucked on my clit. You drove my pussy wild with the things your tongue was doing. I was screaming out in orgasmic ecstasy within minutes. I then went back to sucking your hard throbbing cock while I slid two of my fingers into your tight puckered ass. My fingers must have found your P-spot because my mouth was rewarded with an enormous cum shot. Oh, how I have missed your warm salty scrumptious cum.