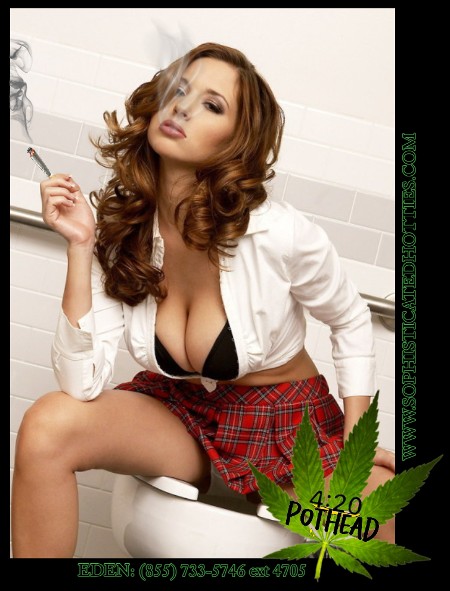 My boss knows I get high while on the clock.. I have a designated bathroom I go to just so I can toke! In order for him to keep my secret and clear my dirty drug tests, I repay him with sexual favors. Sometimes I get to sit back and smoke a nice thick joint of Mary Jane while he buries his face inside of my Shaved wet pussy, on the clock. The sensation of the weed runs through my body as my eyes lower and he drags his tongue through the slit of my silky smooth pussy, it's the perfect mix.
Weed makes me horny anyway so if he wasn't willing to join me.. I would probably disappear after 30 minutes of my high kicking in for another hour to masturbate.. That's what I used to do at my old job. Until my old boss thought it was a good idea to promote a micromanaging loser to look after us. I was caught masturbating's in the back office with a stogy in my mouth watching Titty fucking porn.. It didn't interest the loser because his dick wasn't big enough!
I found out he had an awfully small dick from one of my hooker friends that he hired.. I blackmailed him for a bit but that shit got boring so I went back to school and became a dental assistant.. With my new boss my "terrible habit" wasn't so terrible after all.. He isn't a smoker but no way was he passing up the opportunity to take advantage of some hot intern.. He hired me not because I am any good at assisting but because he loves when my firm tits brush his face while he's doing his teeth cleanings. My firm Large boobs have always gotten me what I've wanted..