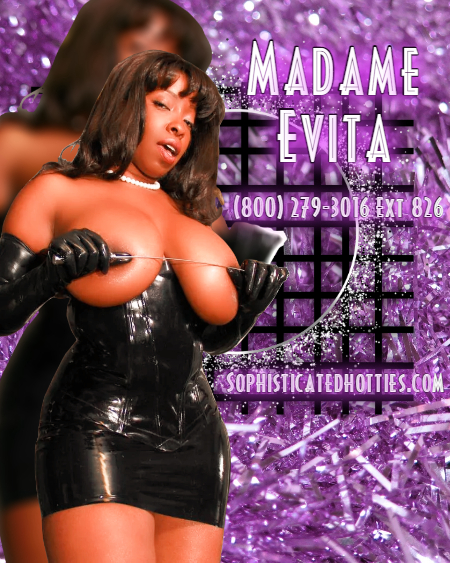 You look so pathetic looking up at me but this is the exact position that you belong in: On your knees in lacy panties and a padded bra waiting for Madame to use you. Your viper red stained lips are begging for my juicy black strap on but first, you must suck me. Open wide, don't slow down, and you better not stop drooling on my cock! Only a mature chocolate domme knows how to break in a little white slut like you! As you smudge your lipstick on my veiny dick my cunt starts to soak so I pull my harness to the side. "Worship. Now." I command as you begin to gently kiss and lick my perfectly trimmed twat. You're already bent over with your puny cock in chastity so now is the perfect time to also paddle your ass. Maybe I'll burst these little grapes you smuggled in your panties. I want to hear you sound off after each wack on your doughy round ass! Thank Madame for this lovely welcoming into the DollHouse!

When I see that booty get red and puffy I'll know you're ready for a good dick down. I start knocking the length of my strap on your back door as you start to whimper. Stay right there. "Madame will take care of you" I moan as you feel me stretch and glide into your soft pink pussy. Mmm. That's what Madame likes. Your gushy tushy grips my dick so like a vice grip. Fuck. You're gonna make me cum, slut. I want to hear that sweet moan as I unload!

As I grip your hips I plunge deep so you can feel the stream of my juice trickle down your asscrack. Even with your little shrimp dick trapped you can't hold back the urge to squirt from your clitty. That's okay. You'll just have to clean both our messes up!