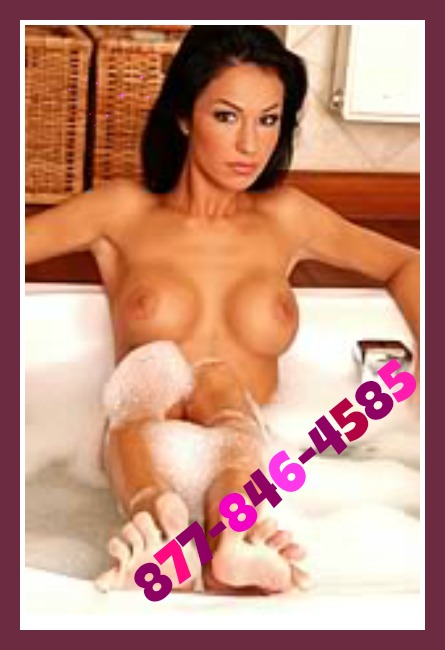 I get so lonely in this big house all by myself. When my man had called and said that his brother was coming for the weekend I was not sure what to expect.
I went upstairs to relax in a warm soapy bath when I heard a mans voice calling through the house. It must have been the brother, but he was a day early!
You opened the door before I had a chance to get up and cover my naked body.
You stood there, looking me up and down before walking over to the tub and slowly undressing, never taking your eyes off me.
Your cock was already hard and I knew it was wrong but I was hot and wet and I wanted you!
So I decided to play along and made room for you in the tub.

I began to run the warm soapy water all over you, feeling every inch of your body! Your cock was so hard, it kept popping up through the bubbles. My pussy was aching for your enormous fuck stick!
You looked at me and said that it had been a long trip and you were hungry! You said that a good hostess always offers her guest something to eat!

My mind was spinning. I wanted you to fuck me and you wanted to eat!
"Well then, I had better feed you!" I sat up on the edge of the tub and spread my legs showing off my shaved dripping pink taco. I looked at you and commanded you to eat!
I should have known that is what you were waiting for. The way you licked me swollen lips, I could you were an expert!

I was about to explode my creamy milk all over your face and you could taste me as it started to burst out! You were practically drowning in sauce as you stopped to catch your breath.
I grabbed your hair and shoved you face back into my dripping cunt! "Good guests eat what is offered to them!"

You finished your meal, cleaning up every last drop.

Well, you know what they say about sex…if it's good, you are always hungry after, so I was eager to return the favor!

Your man meat felt so good in my mouth! Your fat mushroom head glided so smoothly over my tongue!
I had never tasted meat so sweet can't wait to feel you in my tight little pussy!