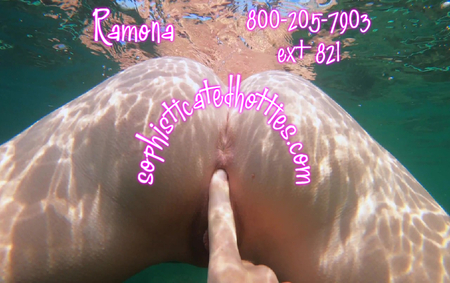 My latest fuck toy is really into underwater photography.
So when he asked me to help him with a new idea he had for some hot new photos I figured why not. Now this dude is really into anal sex. Like his fucking obsessed with it. So when he told me to get naked and swim and he'd be behind me I could only imagine what sick shit he was wanting to photograph with his new underwater cam. Sure enough as soon as we hit the water I felt him spread my legs open from behind me and felt his finger push thru the rim of my asshole and he was finger banging my pink starfish and snap snap of the camera he was taking pictures of his digit deep inside my guts.
It wasn't long til I was straddling him at the waist chest deep in the warm gulf water and bouncing up and down and his fucked my pussy with his rock hard cock. My lady lube covered his thick pipe and I was just as buoyant as a pelican in the water our bodies thrusting in rthyum as he pounded my fuck holes in the water while who knows who was watchin or even noticing. Bareback and all he shot is load deep in my poop chute and we swam to shore.