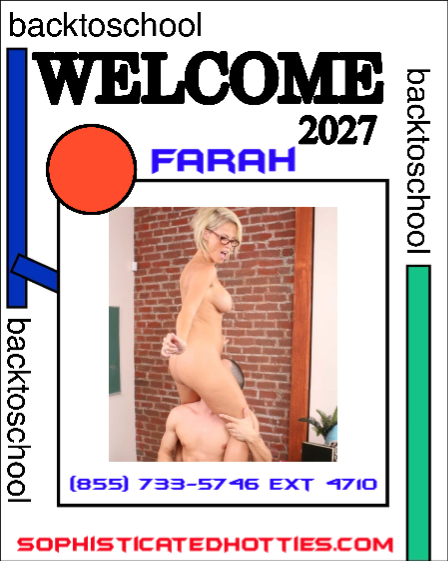 Naughty teacher Farah rings in every new semester with a teacher's pet. Sometimes, I even select a few. And I did this semester. My male pet does not need any tutoring in the pussy eating department. He proved himself more than worthy in that department. However, he does need some tutoring to maintain his athletic scholarship and keep playing baseball, which I am more than willing to do. Ricky comes from inner city LA. Avoided gangs getting into baseball.
His arm appears to be as golden as his tongue. Although I will never give a student a passing grade if they do not earn it. I will help them earn it with extra tutoring outside the classroom. Ricky appears to want to learn too. I only select pets who do. His issues are not his fault either. High school teachers passed him because he brought folks to high school baseball games, and he won his school three championships in a row. However, they never told him until it was too late that he had not really passed his classes.
I Love to Tutor Boys in Sex Ed and Other Subjects
Ricky appears to have a soft spot for mature women too. He calls me mamacita, which means hot mom in Spanish. I guess the equivalent of MILF in English, LOL. I am a phone sex mommy. Why not give the boy some mothering along with the hot sex and tutoring? So, he came by last night for a tutoring session. I decided to help him with his history and English courses too.
After tutoring, I rewarded him with pussy. I motivate boys with my cunt and ass. And my great oral skills. The right motivation works wonders on a boy's ability to focus. After two hours studying, we fucked for four hours. He can eat pussy for a solid hour with no break needed. So, I am just as lucky this semester as him. Never has a boy his age licked me that long and appeared to enjoy every second of it too. But Ricky is an all star athlete and cunt licker.
Although I showed him my great blowjobs skills for about 30 minutes, the rest of the time we fucked. His arm may need iced after a 3-hour game, but his cock bounces back better than his arm. However, today, my legs still feel like Jell-O. So, he might be my favorite pet yet.