You are so sweet to me! I hopped out of bed this morning looking for my hidden basket – you always take any opportunity to lavish me with gifts, I am just that type of girl and that's what it takes to keep my sweet pussy all to yourself. I looked everywhere and finally found the beautiful basket hidden behind the bottom of one of the curtains. There were chocolates, a beautiful gold bracelet, a credit card for me, and then something that appeared to be Easter eggs?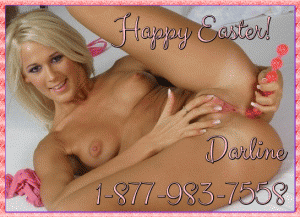 At closer inspection, I realized they weren't Easter eggs at all – they were anal beads! My pussy tingled at the thought of playing with my new toy, but you weren't up out of bed yet. I decided I would get started without you and got naked and lubed up my new beads. They were pink like little Easter eggs and the perfect gift, as usual, from you.
I raised one leg up and began inserting them. I didn't even get four inside me before you came around the corner and caught me playing. You smiled and I knew you were getting hard just watching. I continued to pop them in, one by one, into my tight little pink asshole. You watched as you took out your cock and began stroking it. I love being your perfect little dirty slut and pleasing you by doing things no one else will do for you. I got them all in – now its your turn to take them all out …..