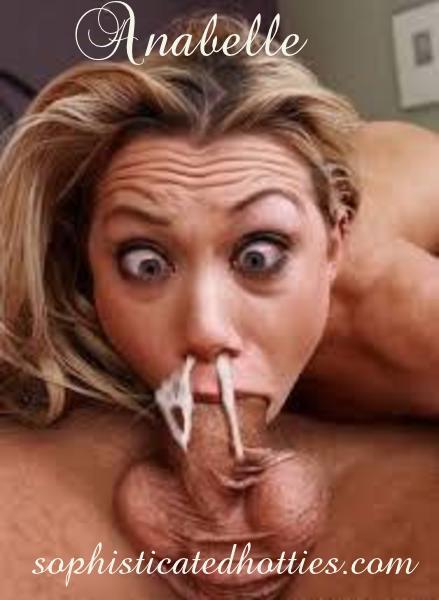 The best phone sex to me means a hot sexy woman, giving great blowjobs, who loves erotic roleplaying, and has a good sense of humor! We've all had that one friend in grade school who had fun shooting milk out their nose, shooting spitballs from straws and in general causing chaos by being totally fun and goofy. That's me!
Who said GFE phone sex has to be all serious and shit? I think it's fine to laugh and smile while fucking each others' brains out! Why, haven't you ever put your face between a pair of bit, beautiful tits and motorboated? I have! All epic blowjobs start with giggling and having fun. Like I said about milk coming out your friends nose?
I had a big laugh from having this one massive cock buried deep in my throat, and when he came I tried swallowing every bit, but it was the biggest cum shot I had ever experienced and it came out of my nose and around my lips. And it just got worse cause he started laughing, so I started laughing, then it all came out everywhere. It was hilarious! And one of the biggest orgasms he had ever had!
I am just saying,how do you know if you have a high sperm count ? If I have to chew before I can swallow! So hit me up and tell me what your favorite funny sex story is, and we'll see if we can't make some new ones!
For now, I'll leave you with this bit of advice.
How do you make your girlfriend scream while having sex? Call her and tell her!