You don't really need an excuse to go out drinking on St. Paddy's Day. After all, as they say in that fantastic movie The Boondock Saints, "It's St. Paddy's Day! Everyone's Irish tonight!" Well, I'm not really Irish, but I wanted to make sure that before I went out drinking, I had a little Irish in me.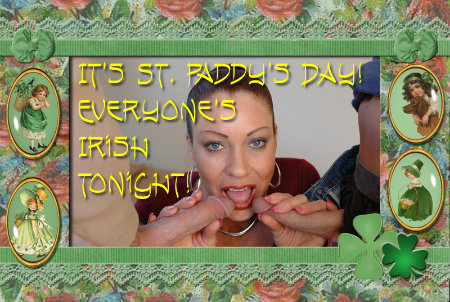 So I invited a couple of the neighborhood boys, good Irish lads, over for some pre-Paddy's drinks.
Oh, sure, we had some good Irish whiskey to start things off, but soon I was wanting to taste something else. I told them that I feared the "Irish Inch", and that I wanted to make sure they had something nice and big for me to feast upon. Both of them proudly whipped out their cocks, and there was nothing for it but I had to measure them, both in girth and length, using only my mouth as the gauge. I swallowed first one, then the other, seeing which one was longer, and which one was stouter. It was a close call, but after much sampling, much measuring, and much tasting, I declared that Ryan was a little bit longer, and Sean was a little bit thicker.
At that point, I told them how I needed to make sure that I had to have some Irish in me so that I could go out drinking tomorrow night. Since Sean was thicker, I asked that he be the first one to plow into me from behind so I could work on deeply sucking Ryan's longer cock. The boys seemed to enjoy that for a while, and I certainly did, but eventually I had them change positions.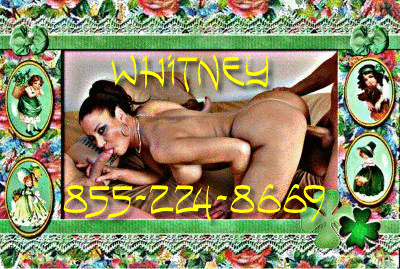 After switching it up a bit, we settled so that I had Ryan fucking my ass and Sean pounding my pussy. I came so hard that I squirted all over everything, soaking them and the sofa we were on. Eventually, they pulled out and came all over my mouth and tits. So I got my dose of Irish for the year from my two big Leprechauns, and I'm all set to go drinking tomorrow!