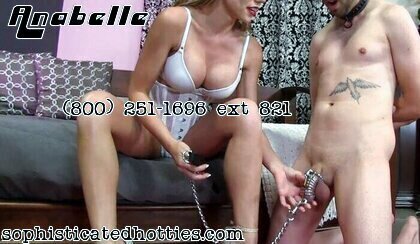 His cock was dripping, his eyes crying. My sweet little fuck toy. My absolute darling. My sweet slut. He arrived at a quarter after 9 this morning, simply for breakfast of eyes and fat sausages. My sweet whore seemed so squirmy the whole time. It made me giggle. After I fed him, and we chatted and smiled over steaming coffee, I led him into the living room.
Up on the my massage table he went. I had him strapped down, unable to move in a matter of seconds. With my favorite butterfly knife, I cut away his jeans. I cut away his shirt. He was whimpering by now, and anticipation. His cock was hard, throbbing. As I cut away his boxers, I grinned. I produced the simple silver key to his little Chastity cage from between my supple tits.
I hadn't unlocked him in well over a month. He hadn't cum since Christmas. My bald, young pussy was slick and hot. I loved torturing him. Off came his cage, and in went the ball gag. He could beg later, when I was done toying with him. I stroked him slowly, my hand sliding up and down his cock. His cockhead was nice and purple, and his balls looked ready to burst.
Already, I slowed down. I intended edge him, tease and denial, for hours. After listening to his muffled begging, I grew bored of this game. I straddled him on the table, sliding my tight cunt down right over his cock. "Don't cum, baby." I laughed as he exploded inside of me. "Looks like you need punished." I climbed up, removed his ball bag, and lowered my hips over his face.
My cunny was dripping his cum all over. He lapped it up, grateful. I laughed again. He was so pathetic, my beloved toy. I set him on an impossible task. "You have 30 seconds to make me cum, or your cock won't come out until Halloween." Needless to say, he had four and a half months of hell waiting for him. Who cares? I love every moment of his torment. He belongs to me.