I will spread my legs and have you lick my pussy while you play with my pretty feet. I know you have Foot fetishes. "Lick my pussy and spoil your princess with your tongue". After you already spoiled me with your wallet, now you can use your mouth. You are the guy who was never able to get a hottie like me. Therefore, when you got money, you became a sugar daddy. I am your sugar princess, and you worship the ground I walk on.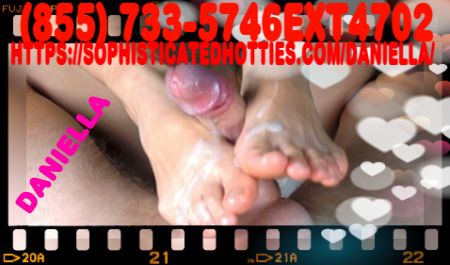 "Don't forget to lick my asshole too". Once you heard that your tongue wiggled harder and faster. It is fun to be your dominant sugar baby, you give me money so I will let you be my financial slave. "Don't stop and jam that tongue deep in my holes" is what I ask of you. After that you do it like a good slave sugar daddy. Then you start kissing down my inner thighs. " I want to taste all of you". You didn't stop until you got to my feet. The way you make out with my feet is just like you were licking my wet cunt.
Then your mouth started sucking on my toes hard like you were trying to milk a cock. I can feel the motion of you stroking your hard dick. Since you spoil me, you can lick and suck me anywhere you want. After that you stand up and shove your cock in between my toes. You hold on to my Sexy legs and fuck my feet. Finally, your cock starts squirting all over my feet. The load you had was so big you creamed up my feet so much. "Rub it in like lotion sugar daddy" I say while pulling money out of your wallet.