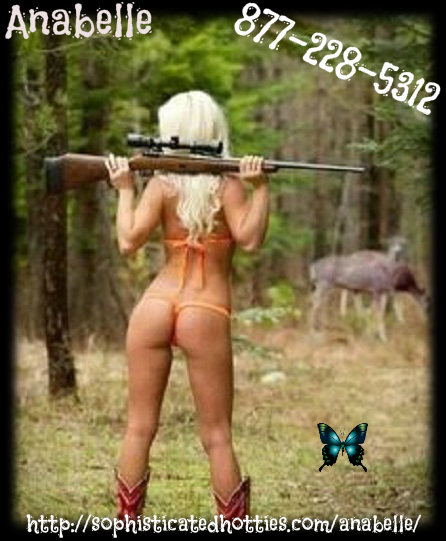 I love hunting season! even a sophisticated hottie like me can enjoy getting wild. The best phone sex for me is the real thing. No "giggle giggle tee-hee look at my pussy"  fucking bullshit. Down, dirty, raw fucking is what I'm talking about.
Ever been in a tree stand, on a game trail, just waiting for the perfect buck to come strolling along, and it's been hours of sitting in the same place, freezing your balls off? Well, imagine having me there, all ready for you to whip it out and let me warm your cock up in my hot fucking mouth. Get a grip of my ponytail from behind my hat and shove my face onto your dick over and over till you dump a hot load of fucking cum down my throat.
Or, we're walking through the forest, it's just getting fully light, with frost in the air, and you bend me over a log, rip down my camos and fuck the shit out of my tight little pussy right there out in the open. I'll be quiet. Shoot your load in me for good luck, and we'll shoot us some fucking dinner!
Oh, but a favorite of mine, is at night, by the bonfire. There's something so sexy about watching the flames, smelling the smoke, hearing the wood crackling under the stars. Gets my pussy all fucking wet and horny! Lay me out on a wool blanket and fuck me so hard my tits bounce in your face. I'd love squirting all over your balls when you spill your jizz into my cunt!
What do you think, any adventures get your dick hard for me?