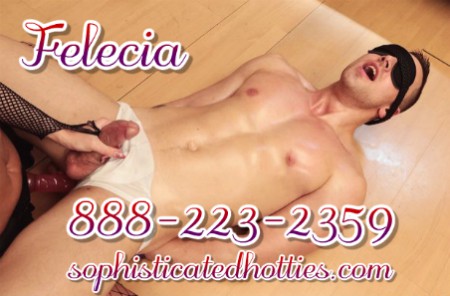 I love being dominant and dirty with my little sissy fuck boys. I invited this hot little sissy over yesterday while my boyfriend was out. I had him step into my apartment and made him strip down to his tighty whiteys. I love being sensual and dominant so I had him thrown on a blind fold so he couldn't see what I was doing. He could only feel my hands and lips touching him all over.
I took him into my bedroom and made him cross his hands behind his back as I tightly bound them together with rope. I lightly whipped his nipples and pinched them with my fingers! He whimpered when I whipped his nipples and thighs! I spread his legs open and pulled his thick hard cock out from the side of his tighty whiteys and began stroking it.
He got harder and harder in my hand but little did he know, I had a hard surprise for him! I began stroking my hard strap on up against his tight ass as he moaned, "what are you doing?" I giggled and began shoving my long strap on dildo inside his tight rosebud as he moaned harder. I fucked his tight ass and jerked his cock off in my soft hands until he came all over!